Better Grilled Chicken (July 2014)
Learn some clever techniques for grilling even better chicken in our latest newsletter.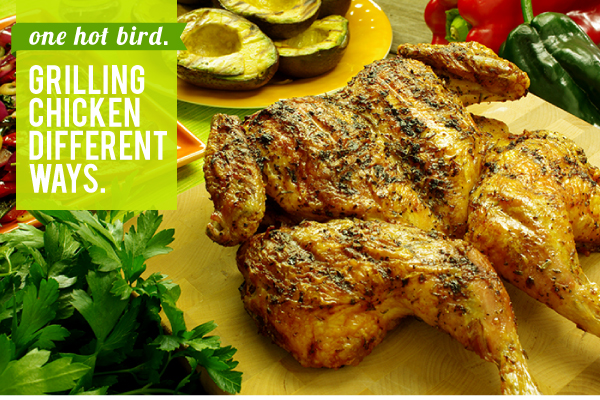 We hope you're already enjoying the grill this summer and find yourself rediscovering a few of your favorite recipes. But, are you ready to add new techniques and recipes to your grilling repertoire? We've found a few great chicken recipes ready for your grate - they're keepers!
IN THIS ISSUE,
everyone's favorite bird, the chicken, hits the grill using a variety of techniques. We begin with vertically roasting a
Beer-Can Chicken
, then marinate some tasty
Cilantro-Lime Chicken Thighs
, and finish with a spatchcocked
Chicken Under a Brick
served with Grilled Avocados and Chiles. Summer just became even more amazing!





NORPRO STAINLESS STEEL VERTICAL ROASTER

Sturdy construction holds birds steady while grilling. Container and infuser adds flavor and moisture.

3 PIECE BBQ
TOOL SET

Oak handled stainless steel BBQ tool set includes a silicone baster, turner and handy tongs.

VERTICAL ROASTER
& WOK COMBO

Clever design! Remove the center and this vertical roaster turns into a useful grill wok.

WUSTHOF
COME-APART SHEARS

An essential kitchen tool when grilling chicken. Cuts birds apart easily. Special poultry notch.

CDN INSTANT-READ
THERMOMETER

Know when the grilling is done. Checking allows foods to cook through thoroughly, but not overcook.

MOISTLY GRILLED
BBQ PLATFORM


Add your favorite liquid then grill. You can even add smoking chips and keep your BBQ moist while cooking.


Master the grill and elevate your summer menu one bird at a time!

From all of us at Kitchen Kapers
Questions or Comments? Email us at customerservice@kitchenkapers.comSign up for our emails, we'll let you know what's new and keep you up-to-date with special sales and promotions.
Like | Follow | Share | Learn | Ask

Kitchen Kapers | 1250 Marlkress Road | Cherry Hill, NJ 08003 | 800-455-5567
Copyright © 2014 Kitchen Kapers/Acorn Advisors.
All Rights Reserved. Reproduction in whole or in part without written permission is prohibited.