Saving Summer In Small Batches (August 2014)
Not sure about canning and preserving? Start small! We have the recipes and techniques to get you started on this easier-than-what-you-might-think kitchen technique in our latest newsletter.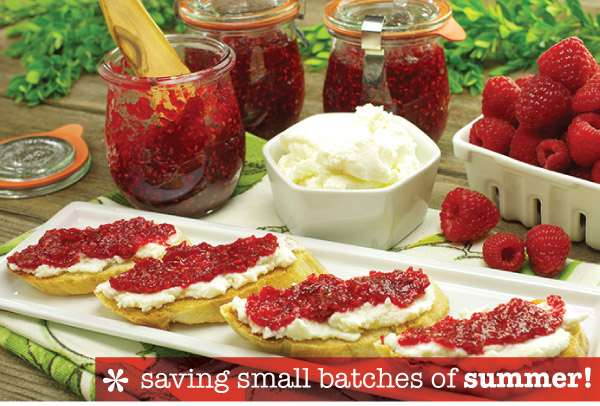 Saving in small batches is a genius approach to "putting up food." With small jars and manageable quantities of fruits or vegetables to prep, canning a batch of jam or a pint of pickles can happen while making supper. Best thing? Small batches allow greater variety on your shelves for the cooler seasons ahead.
IN THIS ISSUE,
we're reviewing the basics of canning and preserving, then we apply this knowledge to the concept of small batches in three, unique and delicious recipes. We start with a
Peach Sriracha Jam
, continue with a
Raspberry Habañero Jam
, and top things off with some
Pickled Hot Pepper Rings
.
You'll find that saving in small batches is a revolutionary concept that will have you discovering, or re-discovering, preserving possibilities.

Like | Follow | Share | Learn | Ask

Kitchen Kapers | 1250 Marlkress Road | Cherry Hill, NJ 08003 | 800-455-5567
Copyright © 2014 Kitchen Kapers/Acorn Advisors.
All Rights Reserved. Reproduction in whole or in part without written permission is prohibited.