Season with Salt (October 2012)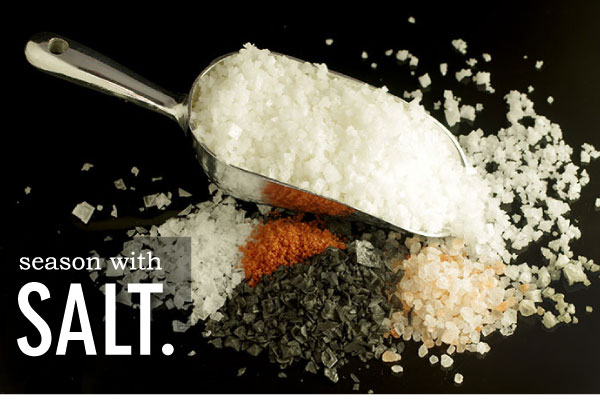 Salt is one of the most common ingredients in cooking, yet, there's so much more to explore beyond our everyday habits. New culinary choices for salt have crystallized into a wonderful complexity of fresh tastes and serving options for this essential mineral.
IN THIS ISSUE, we're exploring salt at a deeper level with a focus on the various types of salts, and their role as the final, finishing flourish to our foods. We showcase finishing salts in a super-easy goat cheese appetizer, soft and chewy pretzels, and a sweet treat, homemade salted caramels.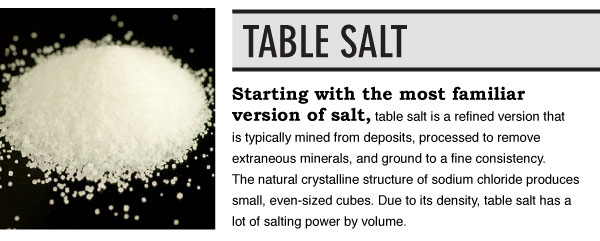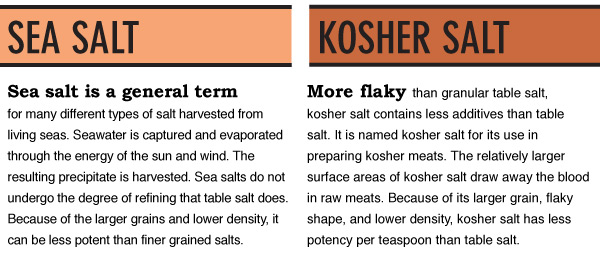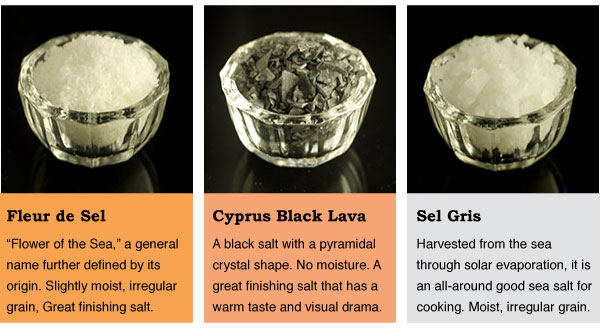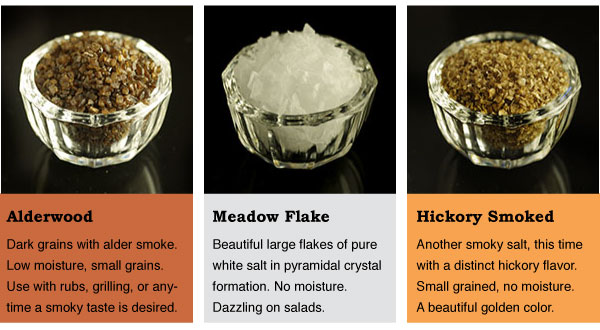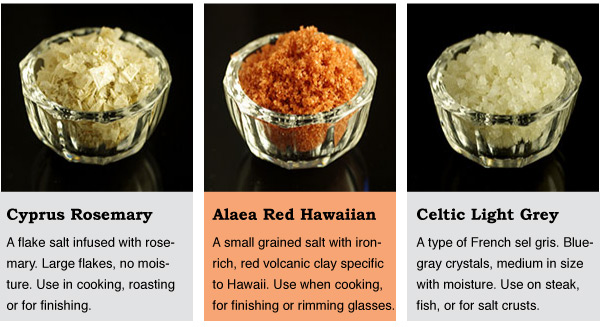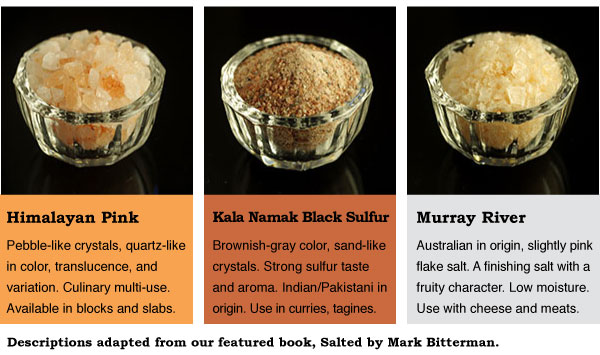 CERULEAN SEAS
COARSE SEA SALT


From the sun-drenched California shores, this sea salt features coarse salt crystals which are Kosher certified.

This French sea salt is prized for its deeply salty flavor and is perfect for use at the table. Brings out the flavor in food.


ROYAL MELANGE
PEPPERCORNS

How can we talk about salt without mentioning its favorite sidekick, pepper? Flavorful blend of black, white, red and green peppercorns.

DAVID'S
KOSHER SALT


This versatile coarse-flaked salt is pure in taste and dissolves quicky. It's the go-to salt for cooks in the know. Kosher certified.


ESPRIT DU SEL
  GREY SEA SALT

This "wet" salt's full flavor and complex taste make it a favorite of professional chefs.

Serve from a salt cellar or a "wet" style salt mill.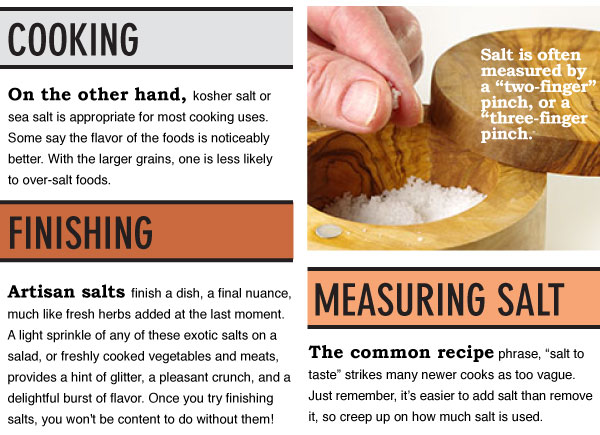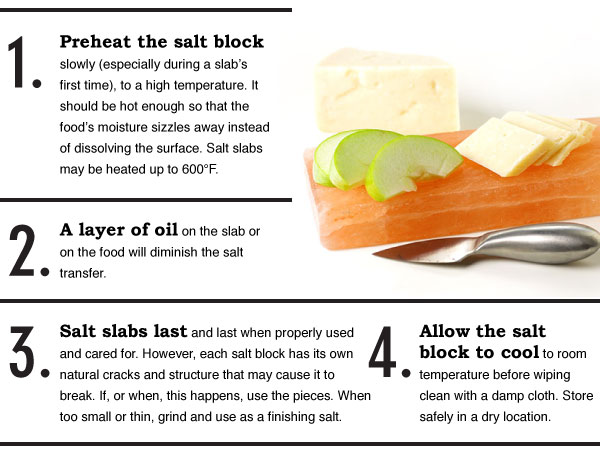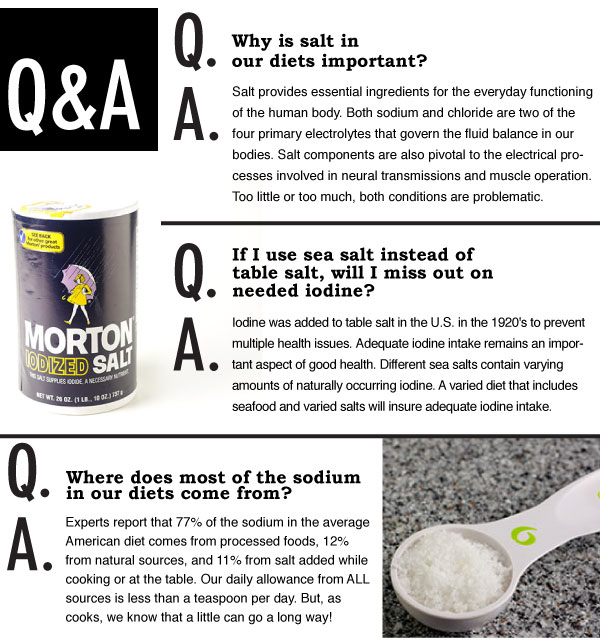 THIS LITTLE PIGGY
KEEPS SALT DRY


This design originated in England and given their rainy weather, it's no wonder they found a way to keep salt usable even in the dampest conditions.

ROUND BAMBOO
SALT BOX


A round salt box is a lovely way to store and serve your table or cooking salt. This Bamboo Salt Box features a hinged lid that easily slides open.

GLASS & STAINLESS
SALT SERVER

This attractive server holds 8 ounces and the glass bowl is removable and dishwasher safe. Works just as nice for grated cheeses.

SILICONE
POP SAVER

Here's another versatile vessel that keeps contents ready for quick use. The Pop Saver's ceramic bowl has a silicone pop-up top and a spoon.

OLIVEWOOD
SALT KEEPER


Carved from olivewood, this salt keeper has a lovely natural wood grain and the lid pivots open. Show off your prized salt in style.

LE CREUSET
OVERSIZED SALT KEEPER


Ten ounce capacity and large opening make this the perfect keeper for your cooking salt. Easily reach in for a two or three finger pinch!
MADE FOR
GREY SEA SALT


Grey sea salt has a high moisture content and won't work in traditional salt mills. This acrylic mill is specially designed to grind wetter salts.

NESTING DOLLS
SALT & PEPPER SHAKERS


Give your meals a dash of Russian flair with these adorabe nesting doll Salt-M Matryoshka Salt And Pepper Shakers.

Grinding your gourmet salts is easier than ever with the innovative 4 to 1 gear system found in this acrylic and stainless salt mill.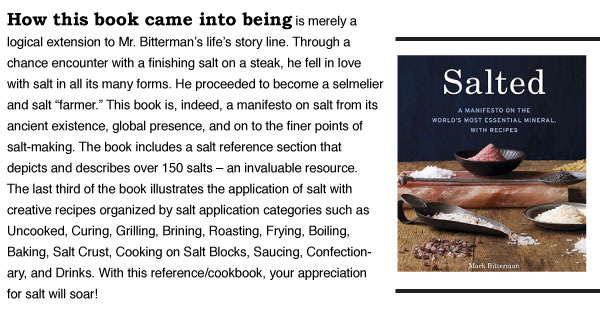 Take pleasure in rediscovering and exploring the large and varied world of salt!

From all of us at Kitchen Kapers
Like | Follow | Share | Learn | Ask

Kitchen Kapers | 1250 Marlkress Road | Cherry Hill, NJ 08003 | 800-455-5567
Copyright © 2012 Kitchen Kapers/Acorn Advisors.
All Rights Reserved. Reproduction in whole or in part without written permission is prohibited.